Keeping them interested in dance class
All little people love to dance. It seems to be something we are born with. So what is the best way in which we can nurture and encourage this. Take them to dance class? For sure, but a good idea is to find a dance class where your child's natural enthusiasm wont get squashed.
Find a good dance class.
It's a good idea to keep it simple and fun to start with. Some classes are very serious from day one, and although there is a place for this type of class, some kids just need to feel encouraged at the beginning. They need to find their own dance within themselves before they can become really serious about it all.
Also remember that music plays a huge factor in whether your child will love a class. A class should have music that they love to hear, and most little people love GOOD music, not baby stuff. Have you noticed, they love all the songs on the radio, and they especially love music with great rhythms and perfect beat.
Get involved.
If you can, download some of the music that is used in class and play it at home. Ask your little dancer to show you the moves they have learnt and put their music on and dance with them.
Remember dance is about expression of music, so the more you can encourage them to 'feel' the music, and dance their feelings, the more they will understand how the two are linked together.
And don't be afraid to let your hair down and dance like no one is watching, together.
Encourage.
It doesn't matter that they don't have perfect turn out or pointed toes, let them dance how they want to, for as long as they want to. Every dance they do is perfect and they need to know that and hear it from you as well.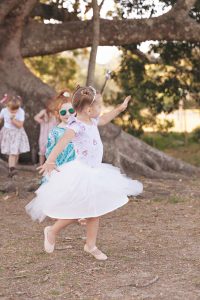 Persevere.
Kids need to learn to give things a go, so it doesn't hurt them if you push a little to keep trying. It's when you push them because you want them to be the best, then that can become an issue. Encouraging them to participate is very different than encouraging them to be the best! (We all know one of those dance mums!).
Try to help them see out a term, and talk to them about having a little break if they want to, but encouraging them to participate is never a bad thing.